You can apply in English.(英語でご応募できます)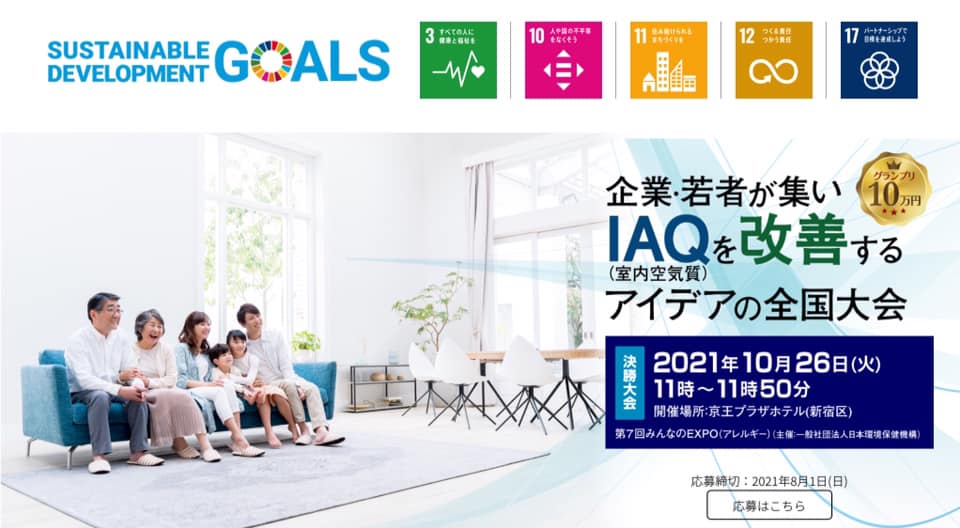 Call for entries of IAQ ideas
close of application is August 1st.
Change the world! The world's first contest!
The 1st improvement competition of IAQ (Indoor Air Quality) in Japan
「Hosted by」
The 1st improvement competition of IAQ Execution Committee
Japan Indoor Air Health Association 
Bedroom Environment Health Management Association
「Outline」
Finals: Tuesday. Oct 26th. 2021, 11:00-11:50
Place: Keio Plaza Hotel Shinjyuku
Application deadline:August 1st , 23:59
Who is eligible: This opportunity is open to global, however, applicants must fill in application form in English(Japanese).
It is the best for the finalists to come to Keio Plaza Hotel on the finals. However, because of COVID-19, you are allowed to send us 3 minutes video by e-mail, and we will judge it.
(You must talk in English(Japanese) in the video.)
Application contents: The ideas which haven't been turned into product yet, as of August 1st, 2021.
(Ex): architectural design, paint, air purification system, ventilation system, way of living, way of working, and so on. Those must not been turned into product. Ideas which are added to existed products are accepted.
How to apply: Fill in application form and send us, management office of this competition, by e-mail.Under 18 years old: apply documentary examination only.
「General」
If you create video for the idea, send us URL of it by e-mail.(This video length is allowed more than 3 minutes.)
Judges: Those who from industry, academia , government and citizen.
「Prize」
Grand prize: one hundred thousand yen
Semi grand prize: fifty thousand yen
Honorable mention: ten thousand yen
「Detail」: See our competition website (https://contest.iaha.or.jp)
「Notice」
Seminar: "point of how to apply the competition".
①Mr. Naoshi Kakitsuba
② Ms. Masami Hirose
③ Ms. Minako Kato
Date: Wednesday, July 7th, 2021, 19:00-20:30 (Japan time)
Place: Zoom
Fee: Free for non-Japanese
1. What is "good indoor air quality"? Chief Judge Mr. Naoshi Kakitsuba, former professor of Meijyo Faculty
2. How to take SDGs in your application idea. Ms. Masami Hirose, SDGs University Executive
3. What we want to tell about, as a host. Ms. Minako Kato, President of Japan Indoor Air Health Association
※ (If you apply after this seminar, we will send you recorded seminar URL for free.)
If you want to apply this seminar, send us (info@iaha.or.jp) your name, address, telephone number, age and e-mail address by e-mail.
「Management office」
The 1st improvement competition of IAQ Execution Committee121-2 Daisenji, Kasugai, Aich, Japan
Tel. 09042605095(Kato)…Japanese only
Mail info@iaha.or.jp …available both English and Japanese